Nanocrystalline Surface:
The New Advancement in Bone Regeneration
You know that bone regeneration is an active cellular process that involves the interaction of osteoblasts and stem cells with the surface of a bone graft material. But did you know that the unique terrain of a nanocrystalline surface can positively influence cellular attachment, differentiation, and function?
TrelCor™ Technology Enlists a
Nanocrystalline Surface
Our TrelCor™ bone graft products are completely covered with a nanocrystalline surface comprised entirely of HCA (hydroxycarbanoapatite). The true advantage of an HCA nanocrystalline surface is that this material allows for faster, more robust bone formation.1-4 And for an optimal scaffold, our unique biomimetic pore structure closely resembles human cancellous bone.5-6
And now this next-generation TrelCor™ technology is available in our full line-up of advanced bone grafting products: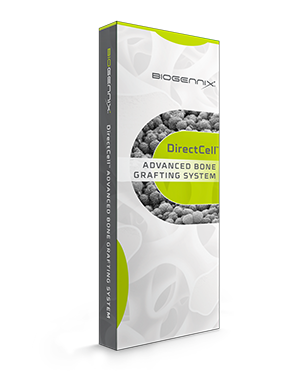 DirectCell™ Advanced Bone Grafting System
Innovative Tissue Harvesting in One Convenient Kit
DirectCell™ is one powerful system designed to streamline your procedures. Create optimal bone grafts with this dual combination of TrelCor™ advanced bone graft technology and innovative autograft and BMA harvesting.
References
1. Zhang J. et al. J. of Tissue Eng. And Regen. Med. 11: pp 3273-3283 (2017)
2. Duan R. et al. ACS Biomater. Sci. Eng. 4: pp 3347-3355 (2018)
3. Spence G. et al. Key Eng. Materials Vols. 309-31: pp 207-210 (2006)
4. Hayashi K. et al. Materials Today Bio. 4: pp. 1-11 (2019)
5. Hulbert et al. J. Biomed. Mater. Res. Symp. 2-1: pp. 161-229 (1971)
6. Kaplan et al. Biomaterials. 26: pp. 5474-5491 (2005)