Agilon Strip Collagen Enhanced Bone Grafting Product is the latest addition to the Biogennix bone grafting product family. Developed with Biogennix proprietary TrelCor® technology, Agilon Strip consists of resorbable, osteoconductive TrelCor granules densely packed in a matrix of type 1 bovine collagen.
TrelCor granules provide enhanced bone formation due to the combination of a nanocrystalline surface with an HCA composition and interconnected pore structure that emulate human cancellous bone. The interconnected porosity of the TrelCor granules, combined with collagen, creates a product that rapidly absorbs fluid, transforming into a flexible strip that fits in and around a variety of voids and defects.
Agilon Strip can be implanted in its original form, or divided into smaller pieces as needed. Its high resistance to compression allows for maximum fluid retention. It seamlessly blends with autograft and bone marrow aspirate, offering the utmost versatility in bone grafting applications.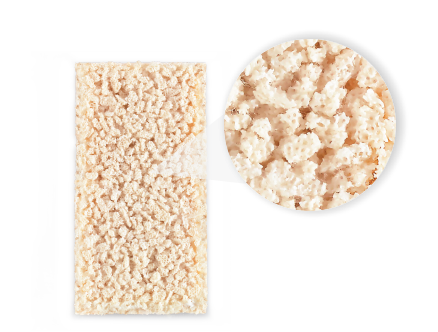 Agilon Strip is densely packed with TrelCor granules to maximize direct contact with surrounding bone