Biomimetic Pore Architecture
Bone graft porosity is one of the key material properties that can impact healing and graft function.  All osteoconductive materials allow for bone formation on the surface of the implant.  However pore size and pore interconnectivity dictate whether bone can form throughout the entire graft material, and the amount of bone that can form.  The porosity can also affect the strength of the scaffold and determine whether it will resist breakage during intraoperative handling.
TrelCor has a unique biomimetic structure that provides an optimal scaffold for bone formation.  With an average pore size of 500 microns (µm) and a 100% interconnected porosity, the TrelCor structure closely mimics the natural blueprint of cancellous bone.
The biomimetic TrelCor structure closely resembles human cancellous bone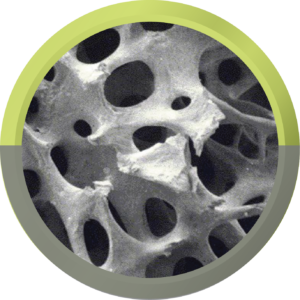 The 100% interconnected and uniform pore openings within TrelCor granules allow bone growth throughout the entire graft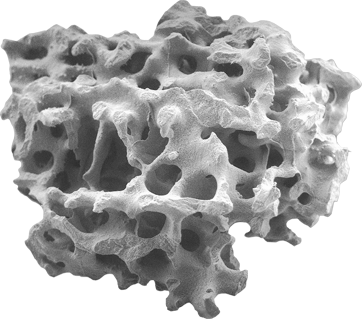 Cancellous autograft has long been the gold standard of bone graft materials. In addition to the biological benefits of autogenous bone, the cancellous architecture is an optimal scaffold for new bone formation. TrelCor's biomimetic architecture closely mimics cancellous autograft. With an average pore size of 500um, the TrelCor structure provides an optimal pore system to support bone formation. Additionally its 100% interconnected porosity and uniform pore shape provide a directly accessible pathway to the interior of the graft site. The combination of these features allows TrelCor bone grafting products to function as a highly effective scaffold that support new bone formation throughout the entire implant area.