Precision Fusion
The osteoSPAN advanced bone graft product is available in a block form (in addition to granules) that was specifically designed for posterolateral spine fusion. The osteoSPAN Fusion Kit is based on the same TrelCor technology as the osteoSPAN Granules. The Fusion Kit consists of two TrelCor blocks packaged together. The osteoSPAN Fusion Kit is intended to be mixed with autograft for use as a bone graft extender in the posterolateral spine. The block form of osteoSPAN is favored by surgeons during posterolateral fusion for its ease of use, resistance to compression, super-fast fluid wicking, and easy combination with local bone autograft. osteoSPAN Fusion Kits are available in sizes 6 x 9 x 40mm and 6 x 6 x 40mm (block size).
Configuration: 6 x 9 x 40mm and 6 x 6 x 40mm blocks
Chemistry: Nanocrystalline hydroxycarbanoapatite (HCA) / calcium carbonate (CC)
Architecture: Biomimetic structure similar to cancellous bone; interconnected porosity
Pore Size: 500 microns (µm)
Resorption Profile: 6-12 months
Storage and Handling: Room temperature, no reconstitution required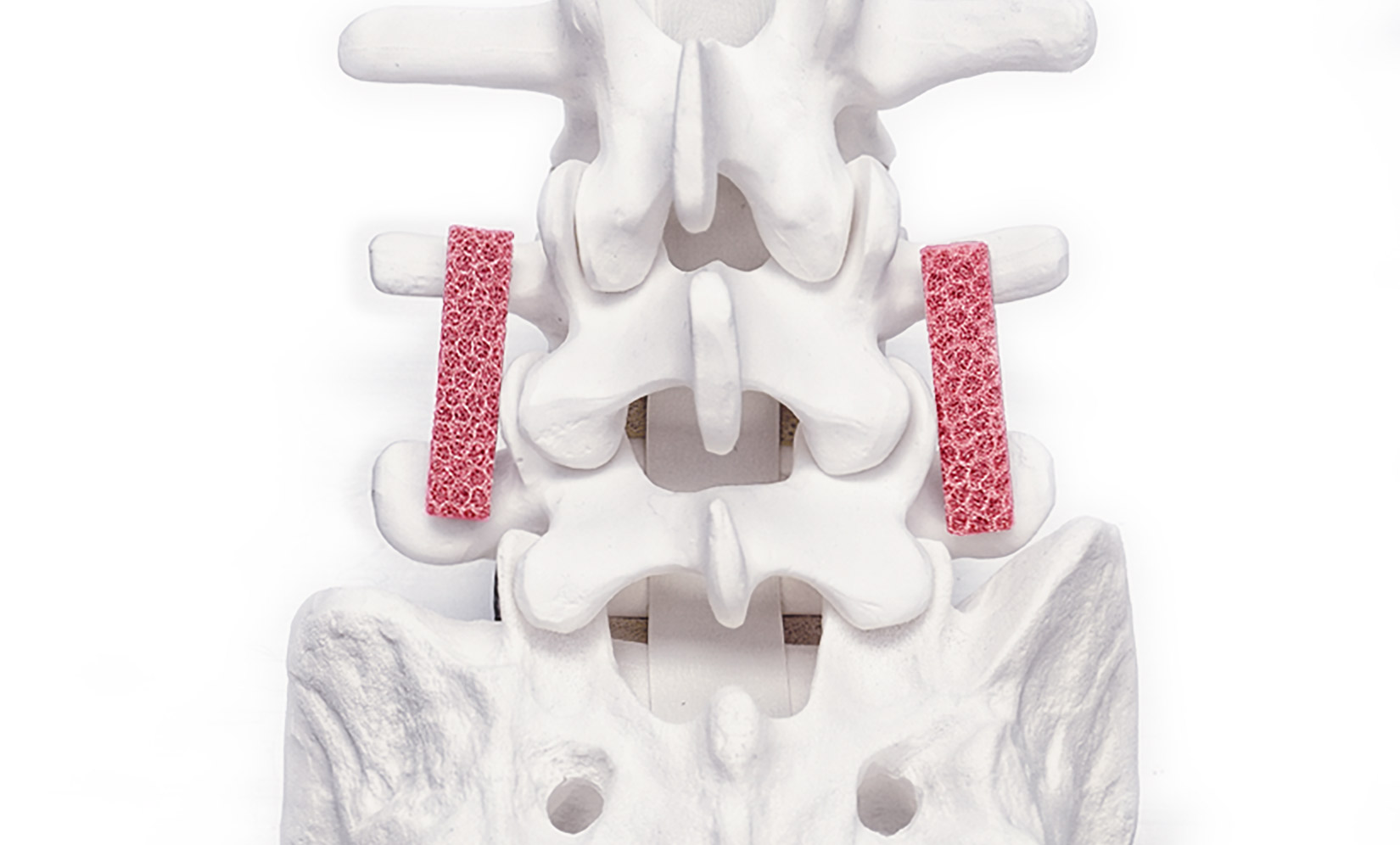 Our osteoSPAN Fusion Kits provide
a scaffold with continuous
interconnected porosity specifically designed to
bridge the transverse process in
posterolateral spine surgeries.
Fusion kit shown bridging
transverse processes
(highlighted in red)
References
1 – Zhang J. et al. J. of Tissue Eng. And Regen. Med. 11: pp 3273-3283 (2017); Duan R. et al. ACS Biomater. Sci. Eng. 4: pp 3347-3355 (2018)
2 – Spence G. et al. Key Eng. Materials Vols. 309-31: pp 207-210 (2006); Hayashi K. et al. Materials Today Bio. 4: pp. 1-11 (2019)