Biogennix Core Technology
osteoSPAN Granules are based on Biogennix's innovative TrelCor technology platform which utilizes a nanocrystalline HCA surface and a biomimetic pore structure to improve bone healing. The granules are a versatile and proven bone graft product indicated for use in long bone defects, the pelvis, and the posterolateral spine (when combined with autograft).  Additionally, osteSPAN Granules (also called TrelCor Granules) are the main bone graft component of Biogennix moldable products, Morpheus and Agilon Moldable.
osteoSPAN Granules represent an advanced bone graft material with a nano-crystalline surface, and an HCA composition and interconnected pore structure that emulate human cancellous bone.  Once implanted, bone and marrow cells attach to the nano-crystalline HCA surface that completely covers the granules.  The combination of the HCA composition and nano-crystalline structure provides an enhanced surface for bone formation.  Studies have shown that osteoSPAN supports direct bone formation on its surface and becomes incorporated into a bone fusion mass, while gradually resorbing over a 6-12 month period (ideal for bone remodeling).
osteoSPAN is also available in a block form (osteoSPAN Fusion Kit) that is specifically designed for posterolateral fusion procedures.
Configuration: Granules, 1-4mm in size
Chemistry: Nanocrystalline hydroxycarbanoapatite (HCA) / calcium carbonate (CC)
Architecture: Biomimetic structure similar to cancellous bone; interconnected porosity
Pore Size: 500 microns (µm)
Resorption Profile: 6-12 months
Storage and Handling: Room temperature, no reconstitution required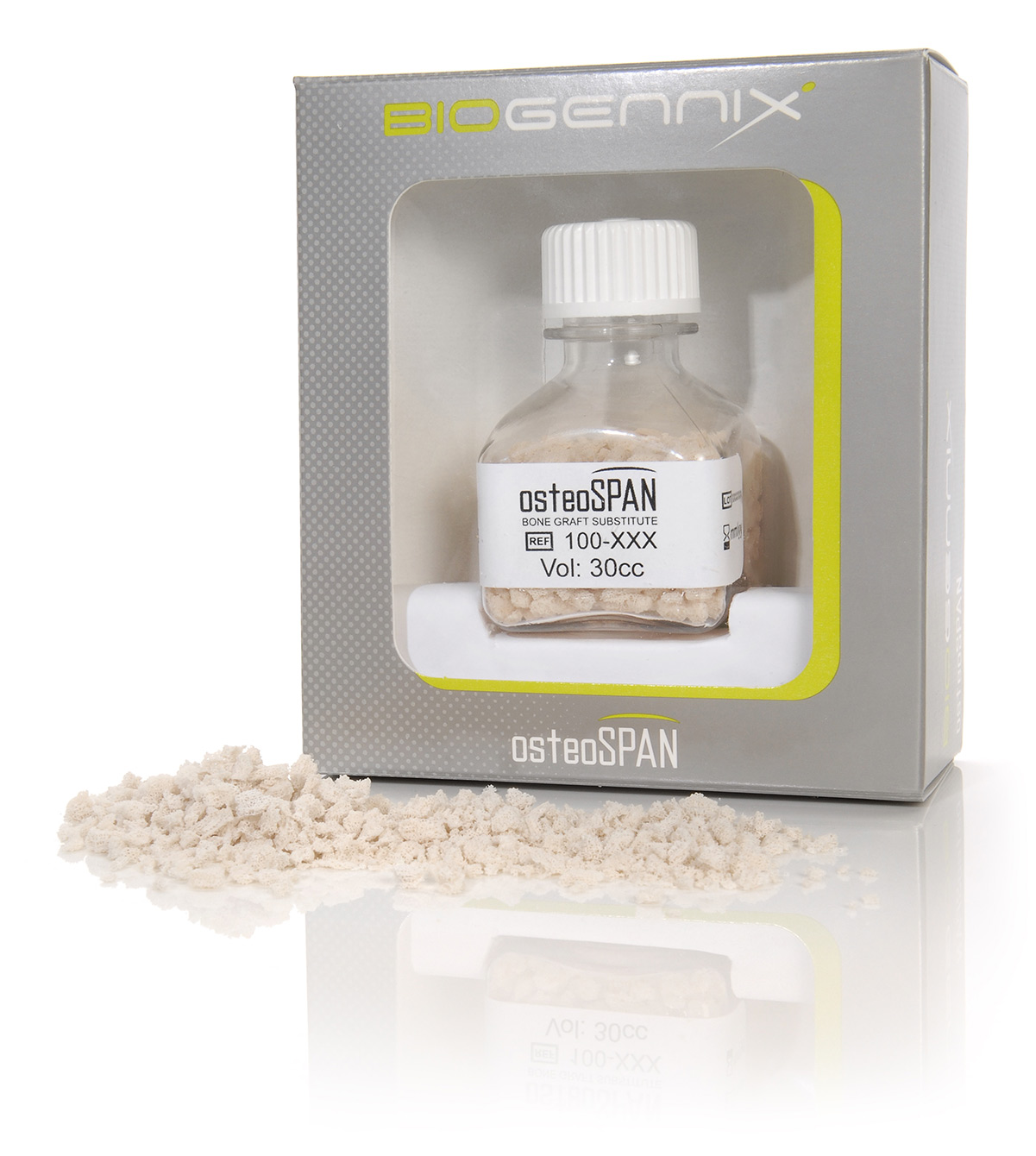 References
1 – Zhang J. et al. J. of Tissue Eng. And Regen. Med. 11: pp 3273-3283 (2017); Duan R. et al. ACS Biomater. Sci. Eng. 4: pp 3347-3355 (2018)
2 – Spence G. et al. Key Eng. Materials Vols. 309-31: pp 207-210 (2006); Hayashi K. et al. Materials Today Bio. 4: pp. 1-11 (2019)